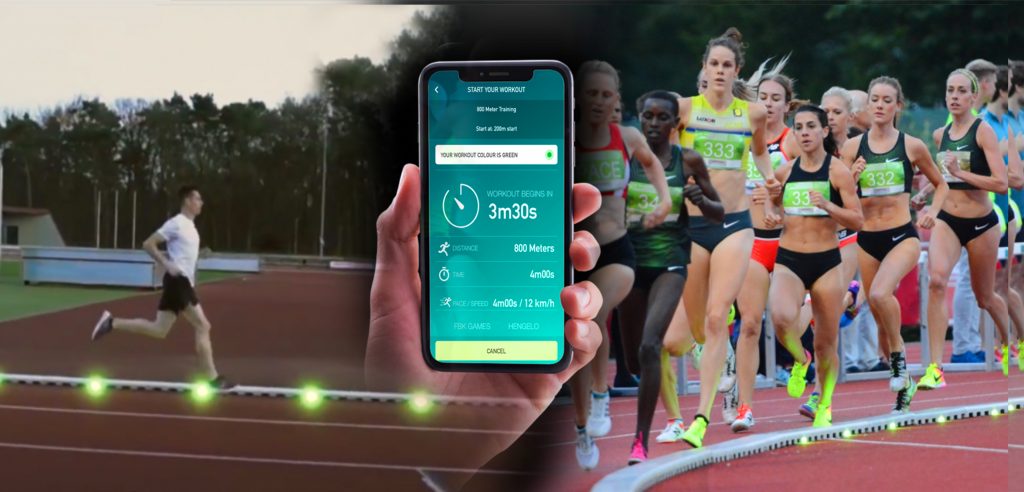 Why stop to look at a clock, let our PACER2 lights guide you as professional and club runners. Add interest to televised track events with crowd visible national and world record pace setting lights.
Sport Technologies of Holland have developed the patented PACER2 athletics track lighting system to provide both world record lap pacing and also training schedules. #WAVELIGHT is an enhanced solution for TV coverage of professional track races and its endorsed by World Athletics. Interestingly, the technology use is already being adapted and refined for many different groups:
SERIOUS ATHLETES

GROUPS

TV EVENTS

Athletes can use PACER2 to complete specific and timed training schedules.

The PACER2 guides the athlete on the duration, speed and interval of their training programme.

The desired pace is constantly in sight of the runner, so they are continuously informed and motivated.

PACER2 enables up to 10 groups of athletes to run different time schedules on the track simultaneously.

This allow trainers to train multiple running groups at different distances and performance levels at the same time.

As a result, the trainer no longer needs to be glued to a stopwatch, but can instead focus on running technique.
#WAVELIGHT offers a higher light level visible to all the spectators in the stadium and is designed to be suitable for TV broadcasts.

The #WAVELIGHT enables spectators to visibly see personal best or world record schedule.

This increases the crowd engagement with the action.

ARMED FORCES

PHYSIOTHERAPY

ARMED FORCES
PACER2 can also be used to help students pass the Copper Test or the Shuttle Run Test.

The system can be programmed with lap times of famous athletes for extra interest and motivation.
Utilising PACER2, many running training courses are being developed for and by physiotherapists.

A desired workout plan can be programmed for an individual in terms of recovery, endurance or interval training.
Military personnel can individually and collectively prepare for physical tests using the various training schedules available.

In time PACER2 might become a valuable tool for the armed forces.
PACER2 in Action
Please see the video (in our left column) introducing PACER2.
---