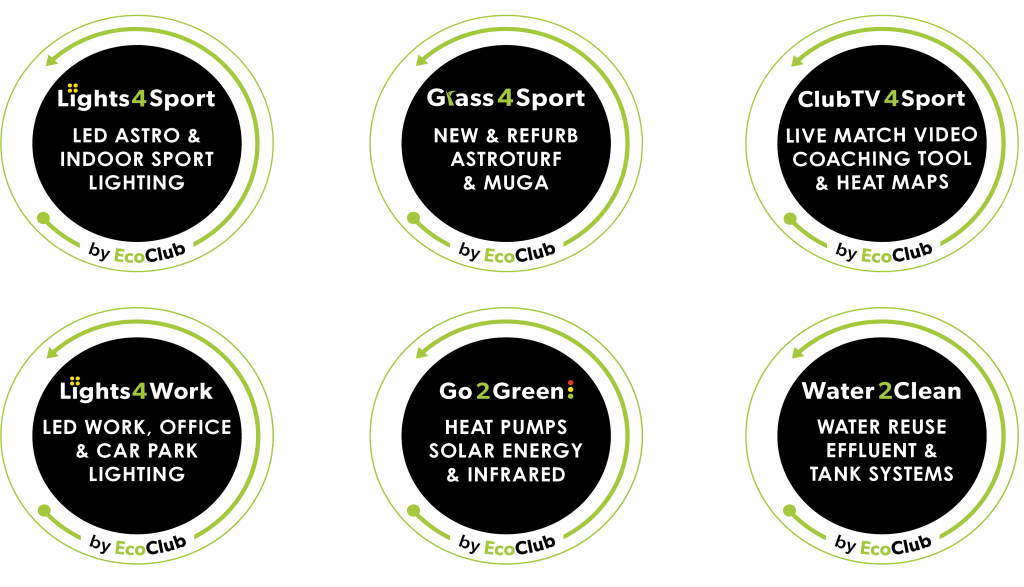 EcoClub provides turnkey solutions for sports, leisure, commerce and industry. Our class leading products and technologies are designed to Save Cash & Carbon.
We specialise in sports floodlighting projects with high quality Dutch designed Dark Licht floodlights. Their unique optical control focuses the light on the pitch, thereby saving power, and substantially reduces light spill on your neighbours and to benefit of the local ecology. Our warm light range are "Dark Sky" compliant.

A Quickish Intro!
Here at EcoClub we are entrepreneurs, engineers, sports fanatics, care about our planet, charitable, community minded and did I mention sports fanatics! So, EcoClub is a combination of a business, hobby, passion and our vision for the future of generations.
We don't just design and supply our products and technologies, we are an accredited civil, mechanical and electrical contractor providing an install service through to a complete turnkey project with finance options.
Varied projects in 2022 include sports pitch LED lighting retrofits, a wind turbine and solar PV battery system to power sports lighting, assisting several soccer clubs to meet league lighting standards by re-aiming their existing floodlights, heat pumps and an effluent treatment plant for water reuse.
To find out how your club, business, school, organisation or home can be energy, water, controls and bio-security smart and benefit from Saving Cash & Carbon, then please do get in touch and we'd be delighted to chat sport, lighting, energy, carbon, sport!
Please check back soon as this web site is developed, thanks.
Martin Roche, EcoClub Managing Director
Freephone 0800 3897361 (from the UK)
Mobile 07866 728480
---