Pitch footfall monitoring systems for maintenance data and ClubTV
4
Sport advanced camera tracking systems for live club web view matches, with coaching and training tools for half time and post match analysis.
ClubTV4Sport is our new bolt on to Lights4Sport providing footfall monitoring of pitches for client and contractor maintenance purposes. Why stop there? Using the same cameras we can include the option to broadcast training sessions and matches on your club web site – secure of course so your competitors cannot see what you are up to!
This advanced camera player tracking technology developed by Usportfor is proven in Holland with more than 70 clubs streaming club matches for various sports and it's now going global. The dashboard allows quick scheduling of matches and training sessions and you are free to post wherever and whenever.
---
The centrally mounted four lens camera automatically tracks the action for soccer, hockey, rugby, basketball and handball with more sports being developed. There are then 3 simple steps – well the techies tell us its very complex and challenging, and it's their expertise that makes it simple for us users:

Enhanced coach/manager features allow live match data analysis post match or even at half time.

Examples are penalty area/circle/23m entries, turnovers, penalties, fouls, goals, tries. The software allows rapid play back of each category through the match.

Advanced features include optional player tracking, live stats.
The best part is that you as the club own your data and are free to use as you wish. Matches can be scheduled to play on your web site with controlled access options. A library is built up and this allows analyses for the next time you play the same team.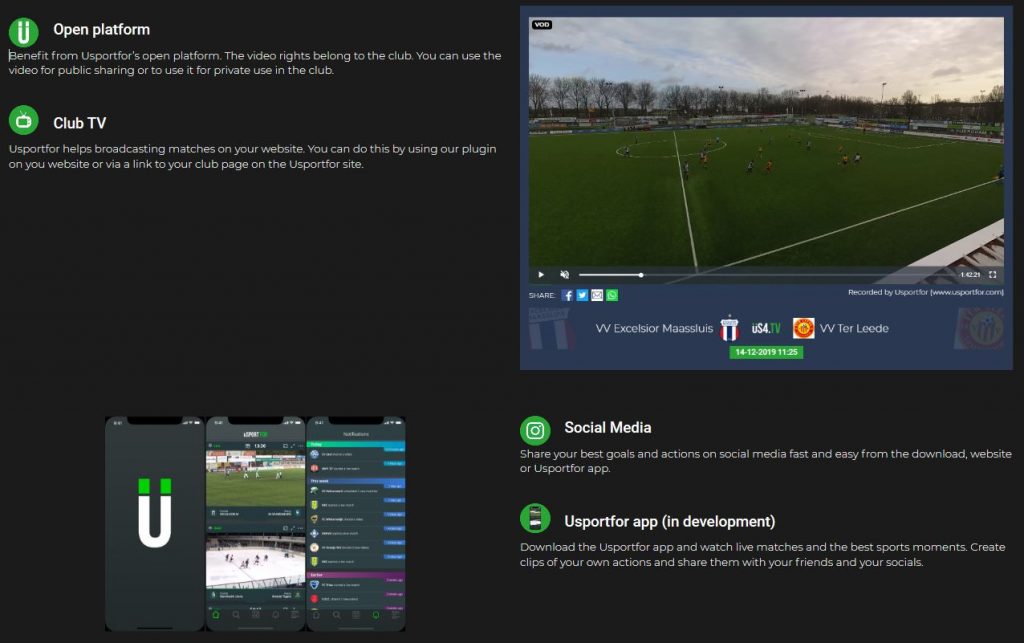 So parents, you can sit at home and watch your kids play without getting wet and cold! You can even download and edit action for sport science courses.
We use our sports lighting infrastructure to simplify install and thereby keep the costs down. The footfall monitoring solution will be compliant with the Football Foundation "Pitch Maintenance" facility requirements for new pitch. However, for a small extra investment then we can really make the camera work for your club to add member engagement, improve performance and to attract better players and coaches.
In Holland, local businesses sponsor the system with their logo displayed on all match broadcasts – now that is a win win for everyone!
---
CLUBTV In Action
Please see the video introducing our partner Usportfor and some match footage – the edit tools are also in English, as you would expect.
---